Process
Executive Search begins with a Senior Associate of The Serota Group initiating contact with a client or the client contacts The Serota Group. Once contact is made we respond quickly since every inquiry has its own sense of urgency.
Meeting with a client and understanding their needs and the culture of the company enables us to present to the client a formal Letter of Agreement detailing the parties obligations and terms of the engagement. Once executed, the Process of the search begins.
We partner with our client to develop a comprehensive Job Description that is intended to attract only the best and accomplished candidates.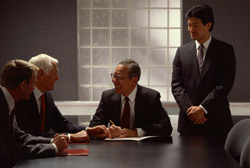 In conducting our research,we rely upon our Internet database/resources and The Serota Group's network of industry specific senior executives.  It's a combination of database and the all-important connections that surfaces the best and accomplished candidates.
We excel during the interviewing process by having several interviews with prospective candidates.  Those candidates that we choose to present to the client have surpassed both the job specification qualifications and the cultural considerations of the client.  During the interview process we ascertain compensation expectations of the candidates and advise the client prior to having the client interview the candidates. 
After the candidates interview with the client we will follow the client's request to obtain references.  These references are treated with high confidentiality and professionalism.
Once the client selects the candidate of their choice, The Serota Group will follow our client's directive of presenting an offer to our candidate.